Program description
The 18-month part-time International Executive MBA (International Masters in Management) starts in May each year, and has been purposely designed for professionals who need to maintain their full-time job responsibilities.
The programme therefore concentrates on-campus instructional time into six 2-week residential sessions. The programme approaches business problem solving with an analytical approach to develop managerial skills that are required for career advancement, and how international dynamics affect the business firm. In tandem with the rich multi-national mix of faculty and participants, the IMM Executive MBA provides for a unique learning opportunity.
The International Executive MBA Programme, IMM is a joint effort of 4 premier Business Schools:
Purdue University's Krannert School of Management in the United States
Tilburg University's Tias Business School in The Netherlands
CEU Business School of Central European University in Budapest, Hungary
Tianjin University, China
EBAPE (FGV) University, Brazil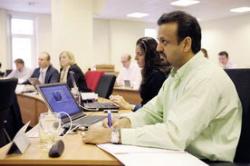 Ranked by the Financial Times (October 2008) as #15 executive MBA programme in the world and it is ranked #1 regarding the international course content. This integrated, modular Executive MBA, beginning in March each year, is designed for experienced professionals seeking to obtain their dual degree while managing full-time job responsibilities. On-campus instructional time is focused into six two-week residential sessions over the 2 years and is combined with online learning elements.
As an integrated educational experience, the IMM Programme:
Develops expertise in appropriate decision-making approaches for the various functional areas of the business
Enlarges the participants' understanding of organizations in the competitive international environment
Prepares participants to assume greater general management responsibilities
Acquaints participants with contemporary business-related computer software and applications
Provides insights into the dynamic economic, social, technological and geopolitical forces affecting corporate planning and decision-making
Fosters the exchange of diverse business ideas and experiences among the participants and the faculty.
Applies coursework and projects to on-the-job managerial situations
Want to know more?
For more information about International Executive MBA (IMM), please
submit an information request
below and the school will contact you with further information.
Application and Admission Requirements
The International Executive MBA is recommended for the following:
Experienced professionals from international companies, government agencies and NGOs looking to gain an executive MBA degree in management while still maintaining full-time job duties and responsibilities
Executives with, or who are about to assume, significant responsibilities in their organisation
International business professionals unable to commute frequently to accredited institutions that have restrictive evening and / or weekend executive MBA programme schedules
Degree and diploma etc.
The IMM Executive MBA programme is an 18-month challenging course of study leading to an executive mba degree (and potentially two MBA degrees). To successfully complete the program and earn the MBA degree, each student must fulfill the course and degree requirements defined by each University granting the degree.
Executive MBA dual degree
Distinctive among Executive MBA programmes, IMM graduation leads to a dual degree: an American MBA and a European MBA. IMM is accredited by both AACSB and AMBA.
Executive MBA Rankings:
Top Ranked EMBA Programme
Rankings provide people with valuable information during their decision-making process, whether they are potential candidates, recruiting agencies or sponsoring organizations.
CEU Business School is convinced that a philosophy of project-based learning at the frontiers of knowledge, hosted in state-of-the-art learning environments differentiates the IMM Programme and what makes it a world-wide top-ranked programme.
Financial Times Ranking of Executive MBAs - October 2008
In the Financial Times' Ranking of Executive MBA Programmes of October 2008, the IMM International Executive MBA Programme ranks #15 in the world, #7 in the US and #7 among European programmes. IMM ranks #1 world-wide for "international course experience", making the Executive MBA truly international!
Summary of the programme's essentials:
Intake: beginning of March eachyear
Number of students per class: approximately 25-50
Six concentrated face-to-face residential sessions (each lasting two weeks) and two online periods (each lasting approximately 22 weeks)
Expenses / Tuition Fees
Tuition fees for the IMM International Executive MBA Program are
established jointly by the cooperating schools for each entering class and are comprehensive in nature.
For the program beginning in March 2010 the fees are to 52,500 EURO (75,000 USD) which is payable in three equal installments.
Included in these fees are:
Instruction
Institutional costs
Books and other course materials
Lodging and most meals during the residential sessions
Travel, however, to the residential sessions is the participant's responsibility, as is the cost of the necessary personal computer
About school
CEU Business School - a landmark institution in the region since its inception in 1988.
CEU Business School aims at excellence in the mastery of established knowledge and was the first in the region to offer management education leading to an MBA degree. The School's International Executive MBA program was recently ranked #15 in the world by the...
Read more about this school